News
Redruth School Celebrates Kresen Kernow Opening
Posted on: 10/09/2019
This week, Kresen Kernow,Cornwall's brand new, state-of-the-art archive centre, hosting 1.5 million records covering 850 years of history, opened its doors. Constructed in the Brewhouse of the former Redruth Brewery this beautiful building is a new public space for Cornwall and Redruth.
Redruth School was invited to the launch on Tuesday, which Craig Martin attended with this year's Head Girl, Martha Richards, and Head Boy, Jack Thomas, on their first official engagement. During a busy evening they met Sir Peter Luff, chair of the National Lottery Heritage Fund, which has part funded the development. They also met the mayor of Real deal Monte, the Mexican town that is twinned with Redruth, plus many local dignitaries. However they were most excited to meet Edward Rowe(aka Kernow King) who was the compere for the evening.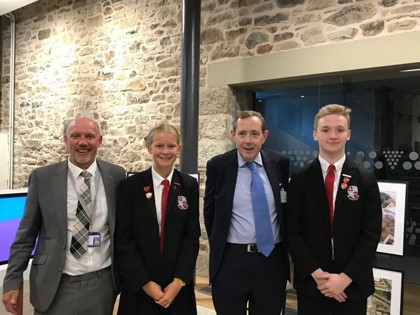 Mr Martin, Martha R, Sir Peter Luff, Chair of the National Lottery Heritage Fund and Jack T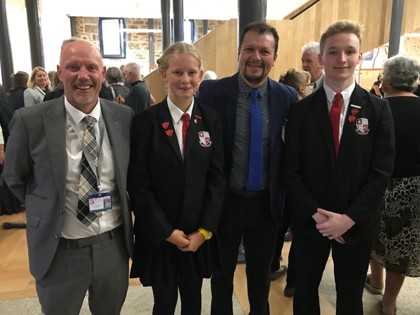 With the Mayor of Real del Monte, Mexico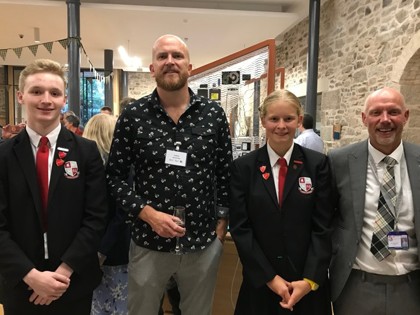 With Edward Rowe, aka Kernow King
On Saturday, Kresen Kernow opened its doors to the public for the first time, and some of the cast from Redruth School's production of Mary Poppins were invited to perform a medley of songs from the show. Maddie B, Madi J, Holly A, Grace T and Kacey H sang confidently and beautifully, wowing the crowd. Mr Hosking played the keyboard, and there was a special guest vocal from Mr Martin during the rendition of Chim Chim Cheree.