Post 16, Careers & Work Experience
At Redruth School, we are proud of the way we help our students through the process of deciding what direction they take after finishing school. Whether it is into further education, training or employment we provide impartial guidance and advice. We involve many outside agencies, including colleges, higher education and employers across both KS3 and KS4. This starts in Year 8 when the students select their options, they are provided with information on making the right choices depending on their pathway. Year 10 and Year 11 are key decision years for our students so it is important that we provide access to all the opportunities open to them to help make the decision.
Our Careers Leader is Mrs Beth Haslam. If you have any queries surrounding careers, higher education or work experience please contact her on 01209 203787 or bhaslam@redruth.cornwall.sch.uk
Examples of what takes place in Key Stage 4 include the following:
Students experience taster days of post 16 courses at Cornwall College and Truro College
Every Year 10 student undertakes a week's work experience in their chosen workplace
Selected students travel to the National Apprenticeship Show
Every student in Year 11 has support from school staff, local employers, or representatives of Next Steps South West to draft their own CV and covering letter
Every student in Year 11 takes part in a 1-1 interview with either a local employer, a representative of Next Steps South West or Careers Ambassadors to discuss their pathways post 16 and where necessary support the writing of CVs and cover letters.
We have termly assemblies designed to inspire students and inform them of the breadth of opportunities open to them.
The Compass Careers Benchmark is a national benchmark for schools to self-assess the quality of their career opportunities, work experience and their ability to provide independent information and guidance for post 16 choices. Please click the link to see our results against the national average.
Work Experience
Our students have to undertake a week's work experience in Year 10 in July. They have the opportunity to learn new skills in all types of workplaces, with the aim of positive and significant impact on their career development. They will also learn transferable skills which are sought after by employers. This is a critical opportunity to gain a quality reference from a non-educational perspective and build their CV with experiences to talk about in interviews.
Examples of past placements have been the following:
Medical program
Building assistant
Veterinary assistants
Software assistant
Hairdressers
Legal assistant
Graphic Designers
Mechanics
Sales assistants
Care assistants
Chef's assistants
Office Assistants
Work Experience Presentation 2019
Useful Information and Links
Veryan Login Portal - Students will be issued with Personal Identification Numbers to access this site shortly.
Veryan Information for Students
Information for Parents/Carers Booklet
Post 16 Opportunities
We had a dedicated information zone in our Learning Resources Centre with information on all pathways available to students once they leave Year 11. Examples of what you can find here are current prospectuses for colleges and universities, information on open days, apprenticeship information and opportunities within the forces, and lots more.
Along the Maths corridor there is up to date information on the labour market and accounts of personal journeys through education/apprenticeships and their current state of employment which makes for interesting reading, along with current opportunities post 16.
UP-COMING EVENTS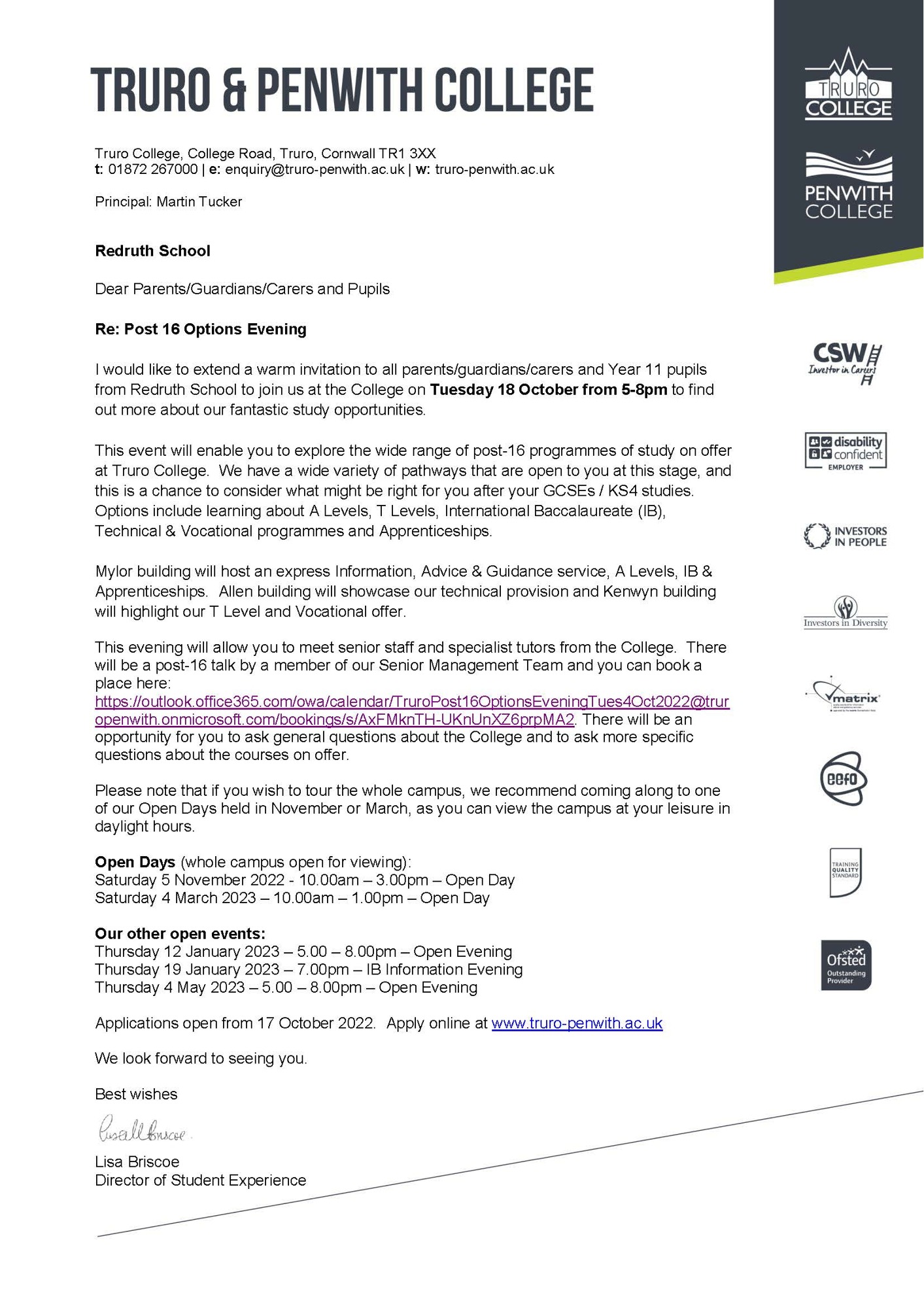 Invitation for Parents:
Success Beyond School
How to coach teenagers towards a successful career
We are delighted to announce the first events in our Success Beyond School series for this academic year. These are live online seminars featuring career experts, designed to help parents amplify their children's career potential. The events are for parents of students aged 12-18 and are free to attend.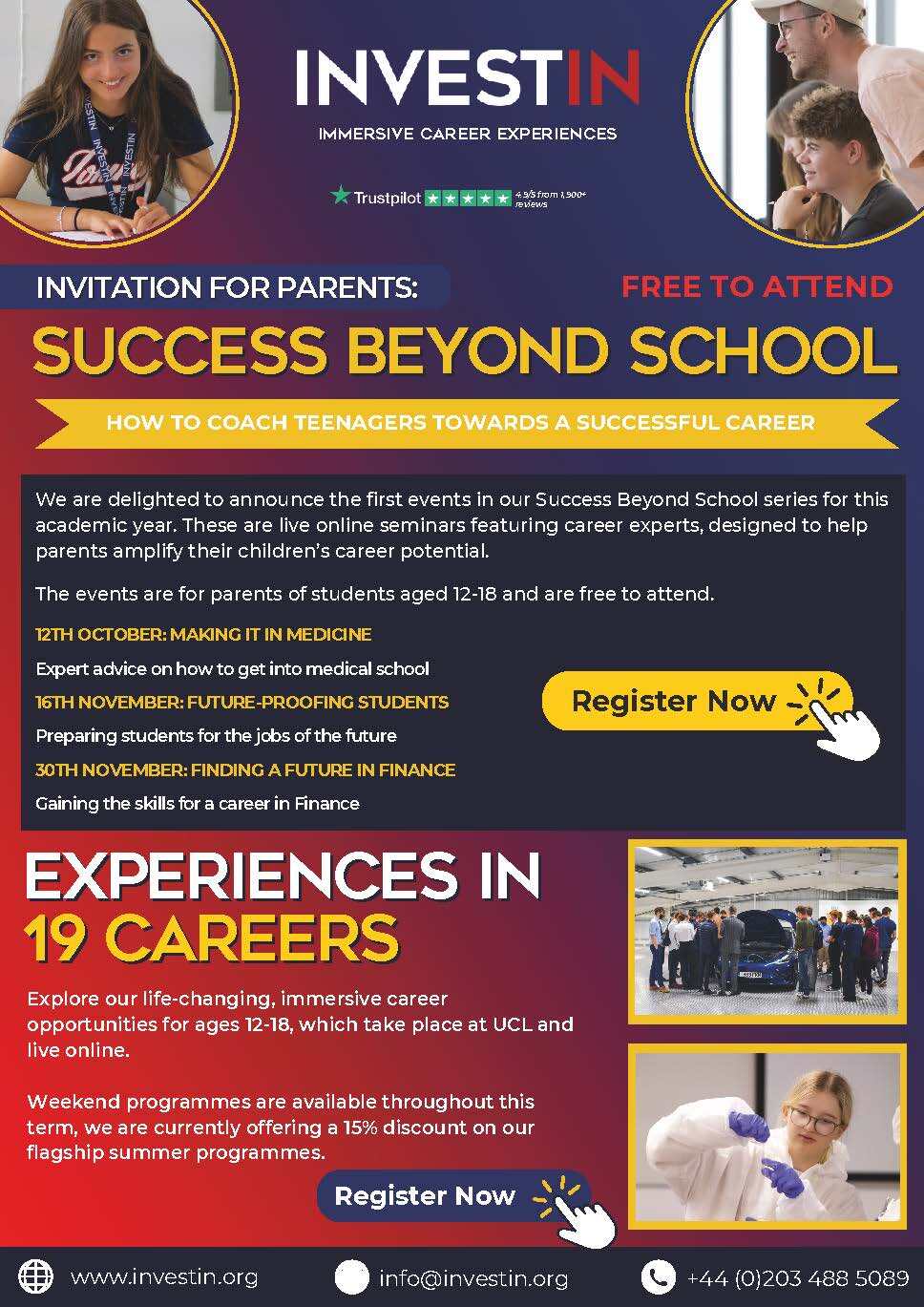 12th October: Making it in Medicine
Expert advice on how to get into medical school

16th November: Future-Proofing Students
Preparing students for the jobs of the future

30th November: Finding a Future in Finance
Gaining the skills for a career in Finance
Career experience for Ages 12-18
Explore our life-changing, immersive career opportunities for ages 12-18, which take place at UCL and live online. Weekend programmes are available throughout November and December. Our flagship Summer Experiences take place in July and August, and there is currently a 15% discount available for those.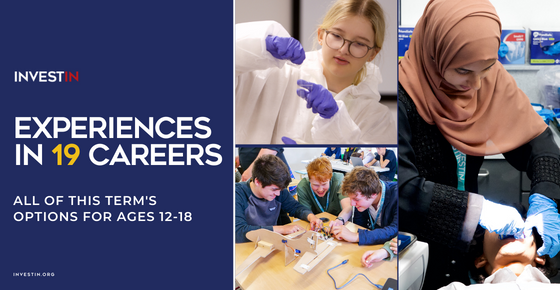 Below are some links that students and parents may find useful:
Apprenticeship Opportunities Available
Careers Advice Links
Higher Education & University Websites
Employment Websites
Life Skills