News
Reading Revolution at Redruth School
Posted on: 27/09/2019
This term, Redruth School has introduced a reading revolution to our classrooms. Every morning, during tutor time for Y7-Y10, teachers read aloud to their tutor groups, whilst students follow with their own copy of the book.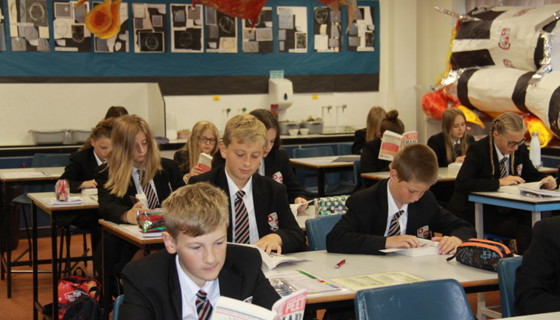 1.5 million words read every morning, before lessons have even started
All students take part
All students read from their own copy of a book
Classic novels including The Lion, The Witch and The Wardrobe and Pride and Prejudice alongside modern classics such as War of the Worlds and The Green Mile
Headteacher Craig Martin says "Redruth students are at the forefront of a 'reading revolution'; we are building on the work undertaken at primary schools by insisting that all students and all teachers read every day. Our school is the only one I know of, as a secondary in Cornwall, that has embarked on this. Science teachers, PE teachers, technology teachers, maths teachers, in fact all of the staff are reading from a book to students with their own copy of the same book every day.
It is vital that our young people increase and improve their literacy skills and this is not necessarily achieved from screens or tablets. The exams they will face will require more complex ideas and sentences, the jobs they go into will require this, and I truly believe that everyone can benefit from the experience of reading.
Already this has resulted in what I hoped, improving each and everyone's vocabulary and comprehension ability, but also, real enjoyment and fun from listening to, and following a good story. The students and staff are both enjoying the experience and looking forward to reading a series of books over the year. This is literally a new chapter for Redruth School."