Science
Head of Subject: Dr Nick Gower
Welcome to the Science Faculty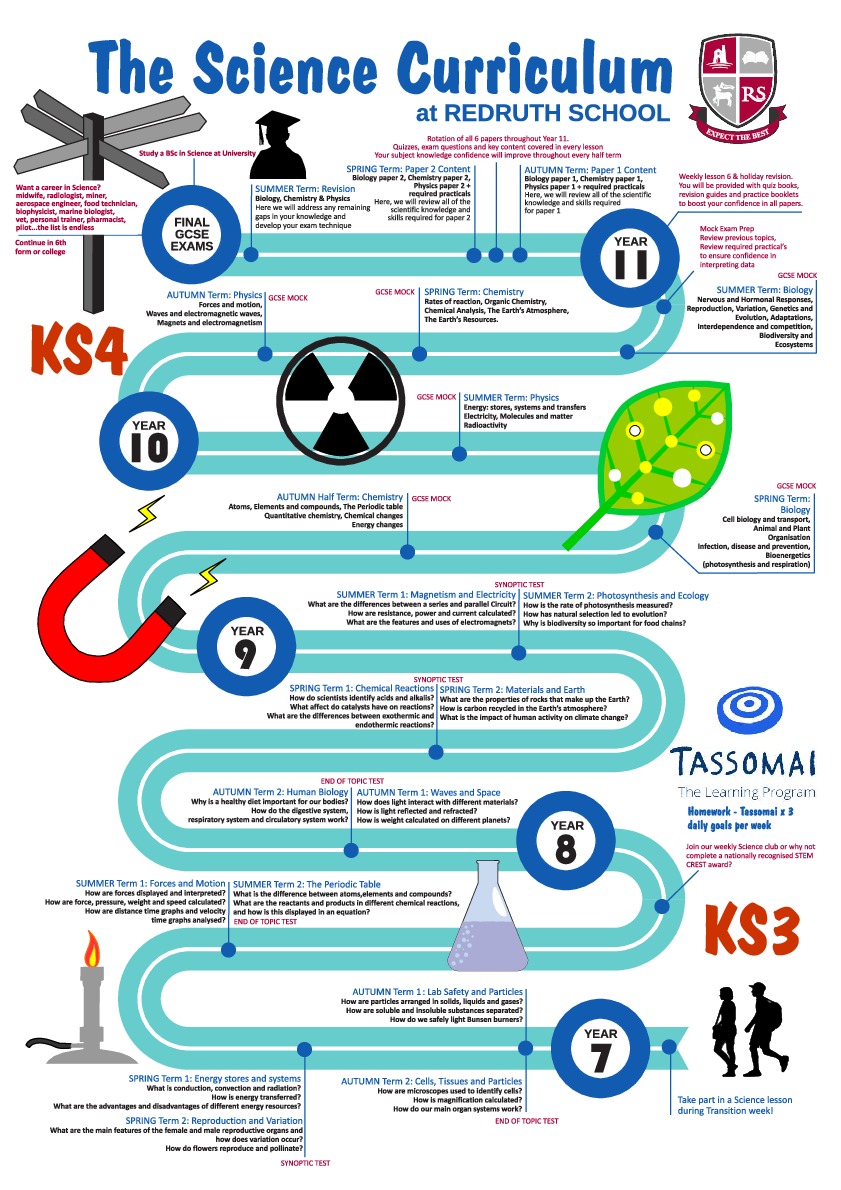 Key Stage 3
Students in Year 7, 8 and 9 cover a variety of interesting scientific topics spanning biology, chemistry and physics. These range from cells and ecology to forces in physics.
We focus and on the foundations of science ensuring students have the required skills to move forward and be successful at GCSE, A Level and beyond.
Science is an inherently practical subject and practicals are an excellent means of exemplifying key scientific phenomena. Our curriculum will give students the opportunity to experience a range of investigations. Thus, allowing students to carry out and critically evaluate experiments with fluency and flair.
Some of the most effective investigations for teaching scientific concepts are included in the AQA Required Practicals list. Students will be exposed to some of these at KS3 albeit with more support and scaffolding.
Students will be taught how to work safely in a science lab, use a variety of scientific equipment successfully and analyse their results to form conclusions. Literacy and numeracy feature in all science lessons.
Students are formally assessed with end of topic tests, once all of the content has been taught in the lessons.
The design of our curriculum allows students to revisit core concepts, but with increasing depth and rigor as they progress. Year 9 students work through a hybrid year, where topics in the KS3 national curriculum are explored further at a more GCSE standard. In doing so, Year 9 students have an excellent foundation of knowledge and skills upon which they can build their understanding in Year 10 – the first year of GCSE.
Setting
Students are set in Year 7, 8 and 9. With continual assessment through all years we are constantly addressing students' strengths and weaknesses. Students in Year 9 will start to explore which tier is more appropriate for their progress and may sit foundation and higher tier papers.
Assessment:
End of unit tests
End of year exams
Key Stage 4
Students start their GCSEs in Year 10 following the AQA syllabus. This covers the breadth of all three disciplines and serves as a solid springboard for further study at Key Stage 5. Students will become confident scientists with the skills to analyse and evaluate data. They will use this to understand abstract concepts.
Two classes will complete extension science – achieving 3 GCSEs in biology, chemistry and physics. This again forms an excellent springboard for studying science A levels at Key Stage 5. These students will study extra content including extra topics at physics.
All other students complete combined science trilogy, achieving 2 GCSEs.
External Assessment
All exams are in May and June of Year 11.
Papers are 1hr 15mins for combined science and 1hr 45mins for extension science. Students will sit 6 papers in total; two biology papers, two chemistry papers and two physics papers.
Internal Assessment
All students will complete a mock exam in each of the paper 1s and paper 2s.
Students will be taught this content during lessons and also given a range of revision resources to help them to independently study.
The mock exams will match the format and content of the external exams to help improve student's exam technique.
How can I help my son/daughter?
Encourage them to use Tassomai by completing three daily goals a week
Revision can be completed regularly by using their exercise book or revision guide to make mind maps or flash cards on the key topics. Students are also given 10 minute quiz books that they can use for self-assessment at home
Purchase the recommended revision guides and regularly use to fill in gaps of knowledge
Use the EBI comments to improve future work. This will be on their blue feedback sheets
Make use of homework club to get some extra help where needed
Encourage students to plan and revise for all assessments and always ask your teacher if there is any area you are unclear on