Music
Welcome to the Music Department!
Head of Music-Mr Neil Souter
Instrumental Tuition
Students can opt to learn a musical instrument in the following disciplines:
· Percussion and Keyboard - Mr John Mitchell
· Piano and Voice - Mrs Kirsty Bailey
· Guitar - Mr Rick Martin
· Strings - Mrs Ria Clemens
· Woodwind - Mr Diston Dryburgh
· Brass - Mrs Kirsty Bailey
· Music Theory/Analysis -
Lessons take place once a week on a rotation basis so as to not disrupt any curriculum time on a regular basis. The teaching team are all teachers who are all active musicians. Many have worked in many areas of the industry including musical theatre in the West End, being employed as associate teachers and examiners for the main music colleges, and of course, teaching a range of students across Cornwall.
At Redruth, we are lucky to have a good range of facilities and resources that are constantly being reviewed and updated. We currently have 2 main teaching rooms, 3 practice rooms, a recording facility and Apple MAC suite. The classrooms are equipped with electronic keyboards, guitars, and both tuned and untuned percussion. Each practice room is equipped with a drum kit and electric piano. We have iMacs and PCs which use a range of resources including BandLab and Sibelius at all Key Stages for composition purposes. Students are encouraged to form their own musical groups, and can book to use these facilities during lunchtimes and after-school.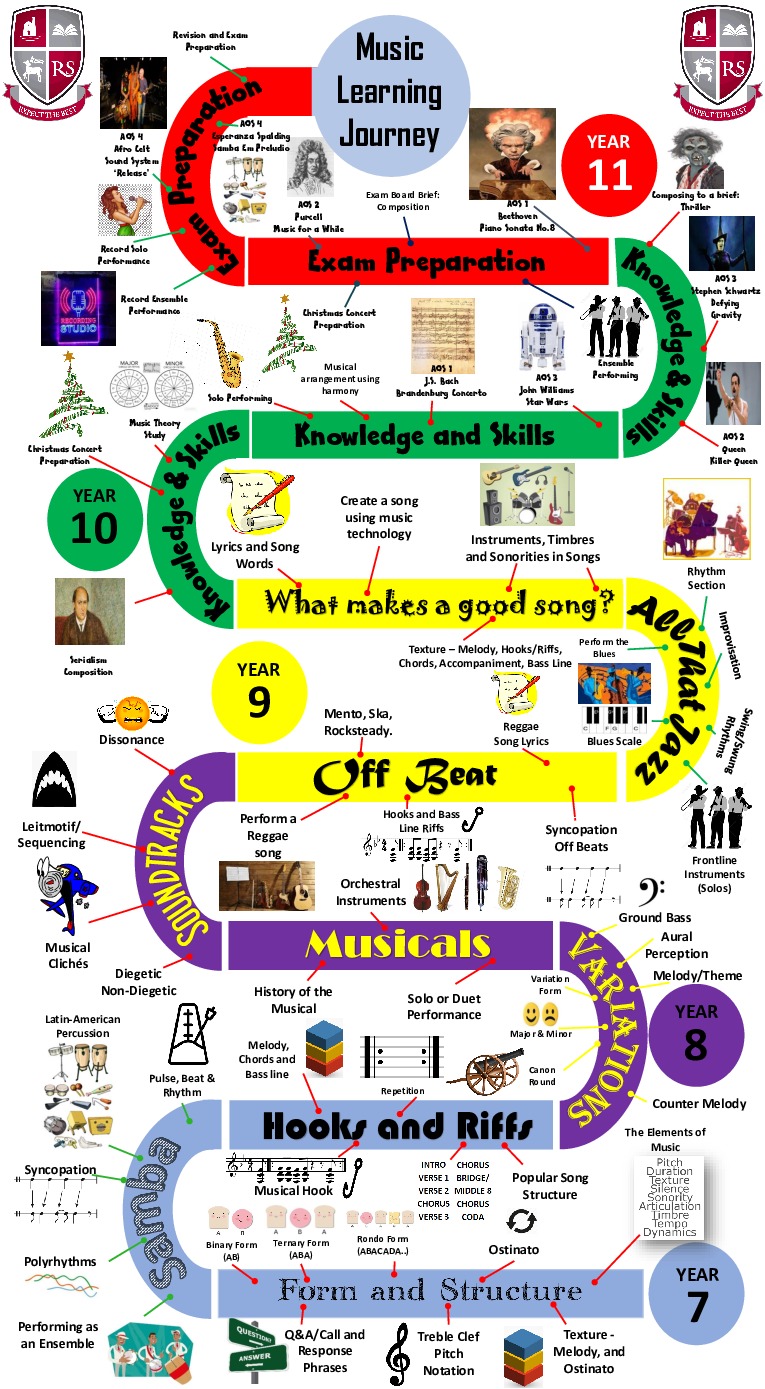 Key Stage 3
In Key Stage 3 students will experience a wide range of disciplines to enable them to have a solid foundation for further study at GCSE if they choose to continue with the subject. Topics include:
Year 7
Form and Structure - students will learn how music is created in terms of the building blocks of music. They will play popular songs to consolidate different aspects of musical form.
Samba – as rhythm is an important of all genres of Music, students will study the musical genre of Samba. They will have the opportunity to play a range of percussion instruments to create their own cyclic rhythmic patterns.
Hooks and Riffs – students will the learn the importance of keeping listeners in a particular song and analyse the repeated patterns within. They will use the keyboards to play hooks and riffs within a popular song.
Year 8
Theme and Variation – students will study simple composition with a well-known melody. They will study how music is developed within a simple framework.
Musicals – students will study the origin of musicals and how musical notation is used to perform songs from musicals. They will use the class keyboards to play famous songs from musicals.
Film – following on from reading basic musical notation, and the previous study of different instruments, students will have the opportunity to compose an underscore for a scene from a film.
Year 9
Offbeat – music from different cultures has been hugely important in the development of the music we listen to today. Within this topic, students will listen to the genre of reggae and study the key features involved in this style of music including syncopation and improvisation.
All that Jazz – popular music has been developed from a range of countries and cultures and in this topic, students will learn about the origin and development of blues and jazz across the early to mid 1900's. They wil experience playing the 12 bar blues and swing music including the likes of Glen Miller.
What makes a good song? – in this topic students will find out what generic features are used within modern music to keep the listener interested. They will utilise these facts in practice to use music technology packages such as BandLab to create their own popular song using loops and samples.
Key Stage 4
During Key Stage 4, students will further enhance their musical studies to build on a range of skills covered in both their Key Stage 3 curriculum, but also the work they complete with their private instrumental teachers. At Redruth School, the Music Department follows the EDEXCEL GCSE Music specification. Al students who opt to study Music at Key Stage 4 are expected to take part in the extra-curricular life of the department to further develop their performance ability. A pre-requisite of taking the GCSE Music course is that students are enrolled on an instrumental lesson package either through school or with private tutors outside of school. The course is set-out as follows:
Year 10
Student will further develop their performance skills by creating ensemble performances which will be more complex than in previous years. They will also be expected to prepare a solo performance to record in line with the expected outcomes of the GCSE specification. Students will also utilise their previous compositional skills to create a piece of programme music encompassing a range of instruments with a range of harmonies. During the year, students will start to use a range of resources to complete the close analysis of five of the eight set-works required for GCSE. They will learn how to mark music scores and annotate them appropriately.
Year 11
In the final year of study, students will be required to record both a solo and ensemble performance each of two minutes. The standard of the pieces will need to be at least Grade 5 practical from the major exam boards. Student will also receive a compositional brief from the exam board, and will need to write a piece of music according to the requirements from the board. There will also be time allocated to completing the analysis of the final three set-works. Near the end of the course, time will be allocated to revisiting the studied set-works in preparation for the Summer Exam.
Extracurricular
· Choir meets every Monday between 3-4pm, with additional rehearsals after school in the run up to important concerts and events
· Redruth School Instrumental Ensemble meets every Tuesday 3-4pm with Mr Dryburgh. Musicians of all ages and abilities are welcome to join
· Redruth Rock School meets every Friday from 3-4pm. The ensemble is suited to all guitarists, drummers, keyboard players and singers
· Redruth School's samba band 'Rio Do Rio Vermhehlo' meets every Wednesday between 3-4pm and is led by Mr Mitchell. Samba is a very noisy and fun way to spend a lunchtime and is open to all students
· GCSE revision is held after school every Friday. Depending on the year group, students can catch up on coursework or attend listening exam revision sessions.