History
Head of Subject: Mrs Lucy Goy
History is all about people from the past and the decisions they made based on events and factors at the time. It is fascinating to be able to explore how this process came about and to learn how it created the chain reactions that have shaped our society and influenced all our lives today.
Our courses are designed to give students a flavour of a development over time and also the chance to focus on historical periods in depth. Students develop essential historical skills such as source interrogation, discussion, debate and using independent knowledge to support or challenge other historians. It helps to really enjoy reading and writing, and to have an enquiring mind. Evidence needs to be found, understood and cross-examined if a picture of past events is to become clear. History is an extremely valuable subject to study at both KS3 and hopefully onto GCSE level and beyond. Not only is the subject varied and exciting, but it also helps develop skills that are necessary in working life. In history you have to communicate and analyse, discuss and make contributions. History is a very popular GCSE option at Redruth School and combines well with most other subjects. Significant numbers of our past students have gone on to complete history degree courses and move into career related areas.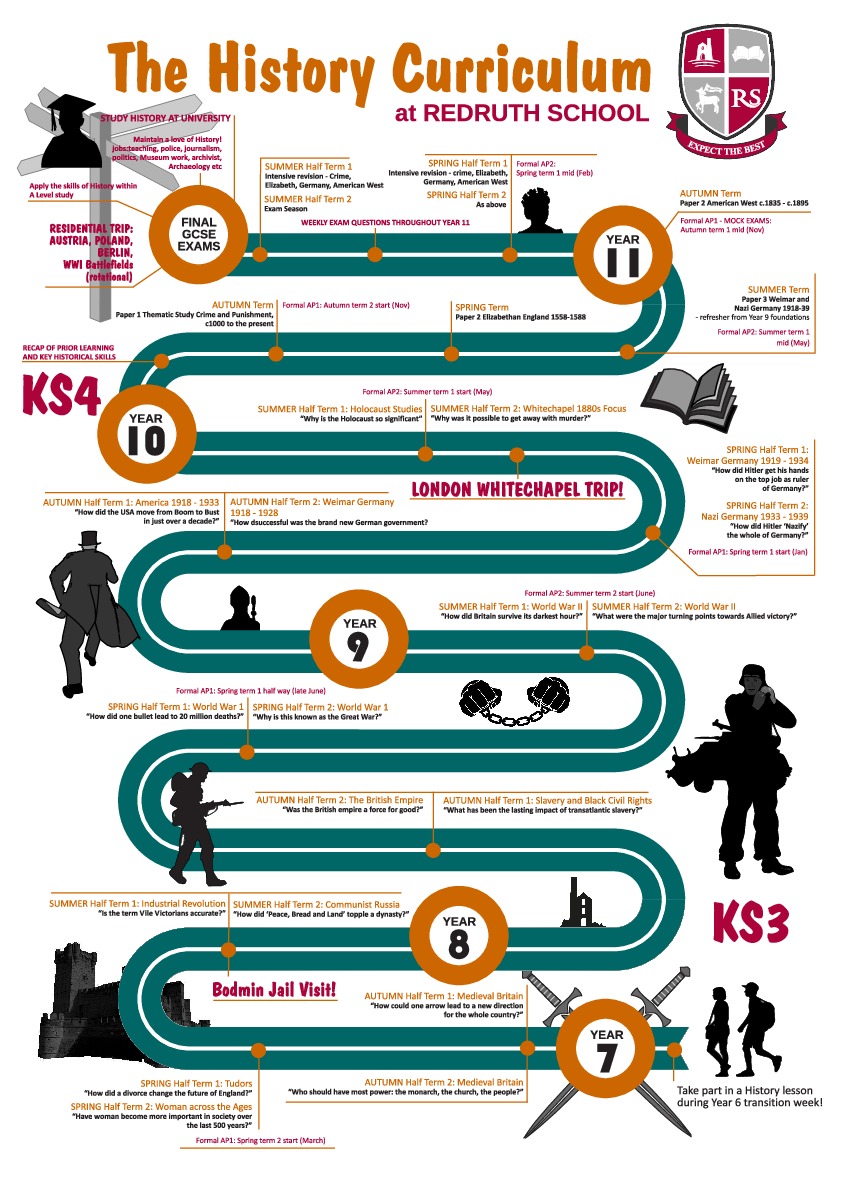 Courses taught at Key Stage 3:
Now that Redruth School is moving towards a three year Key Stage 3, our courses have become broader in the hope of giving students more range to study and inspire a love of history.
Year 7 begins with a focus on medieval studies from the infamous Battle of Hastings to the huge power wielded by the church and monarchy over the people. We move onto Tudor History and focus on the huge changes triggered by Henry VIII's divorce, before engaging in a wider thematic study of the status of women over the last 500 years. Our final term sees us move into all elements of Industrial Britain before comparing it to the same time period in Russia and the impact of revolution, alongside the introduction to communism. Quite a journey, I'm sure you'll agree!
Year 8 begins with a study over time of black American civil rights, before an in-depth look at all aspects of the British Empire which requires students to judge its faults and triumphs. In both these course, we will be highlighting the relevance to our world today. Our spring and summer terms focus on both World Wars, analysing the causes and main events.
Year 9 will begin with a new half term segment focused on America's change from 'Boom to Bust' in the 1920s. Our hope is to introduce students to an area of history that they will have no prior knowledge of at all. This links into a gradual study of Weimar Germany after WWI and the growing influence and then leadership of the Nazi Party. We then make a specific study of the years of Holocaust before ending with the real contrast of Whitechapel, London in the 1880s.
Courses taught at Key Stage 4:
For GCSE (9-1) History we teach the Pearson Edexcel GCSE course. The units include:
Paper 1 – Thematic study and historic environment – Crime and Punishment in Britain c1000-present plus Whitechapel, c1870-c1900: crime, policing and the inner city
Paper 2 – Period Study (The American West, c1835–c1895) plus British Depth Study (Elizabethan England, 1558-1588)
Paper 3 – Modern Depth Study – Weimar and Nazi Germany, 1918-39
The skills that are examined are:
subject knowledge of topics
explaining a range of reasons why events happened
explaining why certain events should be regarded as important
analysing the usefulness of sources; evaluating (weighing up) how much we agree with the interpretations (views) of different historians.
At Key Stage 4 we expect the majority of students to leave with a grade 5 or above.
All our classes are mixed ability, apart from when we have GCSE groups being taught at the same time and then as a department we may decide to create sets within these classes so that we can pitch our lessons to the right ability levels.
We assess for learning and progress within all of our lessons by using different strategies. We assess Key Stage 3 with twice termly formal assessed pieces of work which are fully taught, fully prepared, examined and then improved upon by students following detailed and focused teacher/ peer feedback. All assessments are differentiated and there are levels of extra challenge as well as support for those that need it to achieve their potential. Preceding each assessment in both Key Stages, students will be given essential knowledge cards to revise. Our aim is to keep the content of the courses current whilst teaching the required exam skills.
At Key Stage 4 all our courses have exam related questions woven into the schemes of work. Typically, students will be expected to complete them within lessons and as regular home works following teaching and learning time. In this way we build up a wealth of knowledge about our students' learning and progress. We are also creating many opportunities for them to receive and respond to expert teacher feedback. Across the year there will be 2 formal assessments, but exam style questions are an integral part of our normal teaching and learning. Every piece set will be relevant to developing our students' progress and developing a sense of independence away from the normal lesson environment.
Every year there is an humanities based foreign residential trip. Examples of our past destinations have been the World War I battlefields in Belgium and France and Second World War studies in both Austria and Poland. Usually this is for KS4 students, but our intention is to create more trip experiences for KS3. We have also created a Whitechapel Crime and Punishment weekend in London as well as yearly visits from a Holocaust survivor.
How can I help my son or daughter?
You can help your son or daughter by supporting them with homework. This could be simply checking our Satchel platform for homework and then making sure that they are leaving enough time to complete the work properly. At KS4 a typical piece of history homework should take about 1 hour.
You could search out topical films, documentaries and articles to encourage your child's knowledge and enthusiasm for the topics they will study. The department will provide students with examples of what these may be.
Specific revision guides are available to purchase on ParentPay and cost £3.00. It makes good sense to begin using these from the beginning of the GCSE studies to enhance and reflect on class work.