Drama
Head of Subject: Mrs Helen McGovern
Welcome to the Drama department, we have a strong reputation as a successful subject across the school and wider community. Encouraging and developing students to grow in confidence, consider life from different perspectives and learn numerous performance skills.
The department is a vibrant, lively and integral part of the school offering a varied and extensive extra-curricular program. The department has had many successes within the school environment but especially within the community as whole.
We have 2 performances spaces:
D2 – A dance studio with mirrors and changing room
D1 – Performance space with the lighting and sound equipment. This space is used for School Production
Both spaces have a changing a room where students are expected to leave bags, coast, blazers, shoes and socks. Students work bare feet in the space and can wear a dance/drama/jazz/ballet shoe.
Projects we participate in are:
Drama Secondary Showcase at the Hall for Cornwall
RSC partnership
School productions
Redruth's Got Talent
Creative arts showcase/evening
GCSE exam work showcase
Performances and workshops with The Hall for Cornwall
The department consistently achieves a high level of academic achievements within KS4
The department has 2 members of staff and two technicians:
Mrs Helen McGovern - Head of drama
Miss Rachel Barratt – Drama teacher
Mr Dryburgh – Creative Arts Technician
Mrs Grose – Creative Arts Technician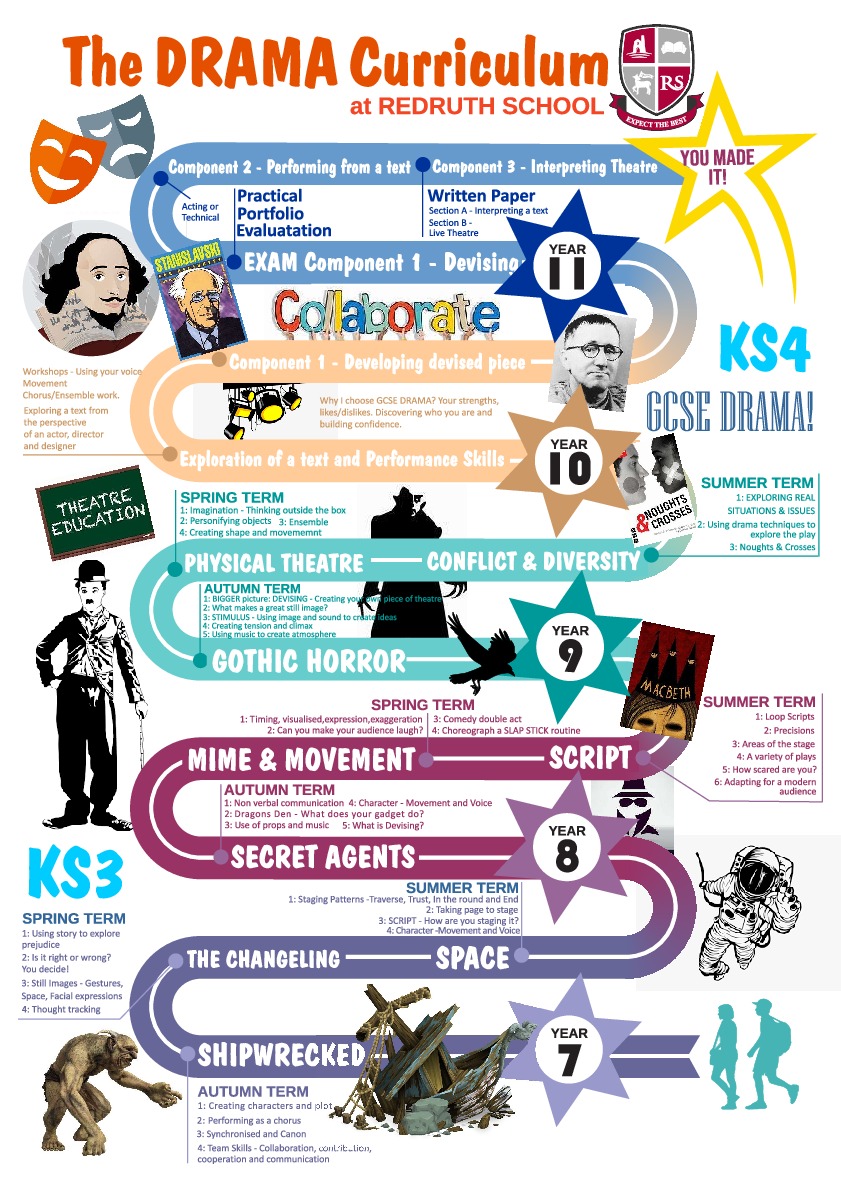 Key Stage 3
KS3 has exciting and varied topics whilst learning techniques, styles and genres
Year 7 topics
Term 1 Coast
Team skills – Compromise, listening, cooperation, leading, directing, suggesting and developing ideas.
Basic drama techniques – Using still image, movement, mime and script.
Term 2 The Changeling
Stimulus – Using pictures and story to explore prejudice.
Basic drama techniques – Using still image, thought tracking, defining the space and mime.
Term 3 Space
Character – Creating a character using facial expressions, voice, gestures, movement and space.
Staging and script – Learning the different staging patterns and applying one to a piece of script.
Year 8 topics
Term 1 Secret Agents
Using props, music, different scenarios and a variety of group sizes to devise characters and short scenes.
Term 2 Mime and Movement
Exploring mime and comedy using the influences of Charlie Chaplin and Laurel and Hardy. Creating and choreographing a double act – Can you make us laugh?
Term 3 Script
Using a range of scripts from Loop script to Shakespeare through these scripts they will explore – Precision, cues, staging patterns and areas, character and adapting script for a modern audience.
Year 9 topics
Term 1 Devising
Using the theme of Gothic Horror to explore and develop their own pieces of theatre.
Term 2 Physical Theatre
Learning to work as an ensemble and create essence machines, personifying objects and script.
Term 3 Conflict and diversity
Applying Forum theatre techniques to explore conflict and different people's perspective of the same situation. Exploration of diversity using the noughts and crosses play.
Students have folders which include writing in role, assessment and feedback
No homework is set in drama.
Drama Club runs every Wednesday 3-4 pm for KS3 in D2 (This will differ whilst School Production runs)
Tech Club runs every Tuesday lunchtime in D1
All KS3 are welcome to take part in The School Production
Courses taught at Key Stage 4 (Years 10 and 11):
GCSE Drama (Eduquas/WJEC)
How is the GCSE in Drama assessed?
The GCSE in Drama is made up of 3 units:
Unit 1 Practical = 10% of Final Grade
Unit 1 Supporting Evidence = 20% of Final Grade
Unit 1 Evaluation = 10% final grade
Unit 2 Practical = 20% of Final Grade
Unit 3 1 1/2hour written exam = 40% of Final Grade
Year 11
During Year 11 students will have two practical opportunities for friends and family to come and support and watch their performance work.
Students will be expected to find additional rehearsal time after school to work on improving and refining their performance work.
How can I help my son/daughter
Take them to view live theatre and live streamed performances
Buy programmes and texts to support their subject knowledge and interest
Visit websites to explore and research
Support their commitment in school productions and KS4 rehearsals
Download apps linked to their learning for example editing apps and music/sound apps
Websites
www.eduquas
www.tremough
www.miracle