LEAP Centre
Leadership, Excellence, Accelerating Progress
Redruth School is proud to announce the opening of it's LEAP (Leadership, Excellence, Accelerating Progress) Centre. The LEAP opened in September and is running a bespoke programme for our More Able students in all year groups.
The programme starts in lessons with `a challenging curriculum and extra stretch and challenge for MABLE students on a lesson by lesson basis. Students then have a programme of Masterclasses run by staff and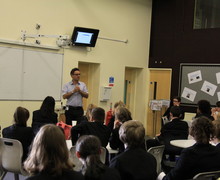 external speakers. This has been well received by all year groups. Our first outside speaker was Dr Jeremy Sandbrooke, a consultant psychiatrist. His talk was well received and students had many pertinent questions that helped to deepen their understanding of the role of a psychiatrist and the skills required to follow that career path. Plans for next term will bring an Engineer from PALL, a freelance conductor and presenter, and work with The Royal Veterinary College and Exeter University.
Our Year 11 students have been attending early morning Masterclass sessions in all GCSE subjects giving them extended insight into the knowledge and skills required to achieve Grade 7 and above in their upcoming examinations.
Our Key Stage Three MABLE students have begun to complete their LEAP Learning Passports, to give them extra knowledge and skills as they move though school to ensure that they have an edge on other students when they come to apply for college, university and work. They are also commencing a piece of work based around the 100th Anniversary of World War I. Students have also been identified for the Brilliant Club. This will give them the opportunity to complete a study alongside university lecturers gaining a nationally recognised certification.
The centre itself is situated in the heart of the school and has facilities that include high end technology, break out and seminar areas. The centre is open to MABLE students of all year groups to use before, after and during school.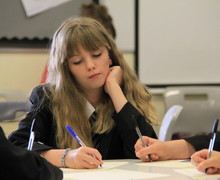 Our centre will not require an entrance examination and students will continue to follow their existing timetable alongside their peers. Stretch and challenge starts in the classroom for all students and those identified will be invited to take part in the kind of activities described above. The planned events will also include trips/visits to leading institutions both in the UK and abroad. The LEAP centre will offer students opportunities in all subjects to ensure that students have every opportunity to play to their strengths and are motivated to succeed across the board.
Mrs Battersby, Assistant Headteacher and Facilitator of the LEAP Centre said, "I feel very privileged to be starting this new initiative at Redruth School building on the excellent work of the Future Stars programme. I am passionate about inspiring our students to stretch and challenge themselves to ensure they extend their educational opportunities and reach their full potential. Our students have the talent to gain the best qualifications and develop their unique talents, obtain the highest quality apprenticeships and attend the best universities. What a honour to help them do so."