LEAP Centre
Leadership, Excellence, Accelerating Progress
Redruth School is proud of the continuing success of its LEAP Centre (Leadership, Excellence, Accelerating Progress). The LEAP opened in September 2018 and runs bespoke programme for our More Able (MABLE) students in all year groups. The centre itself is situated in the heart of the school and has facilities that include high end technology, break out and seminar areas.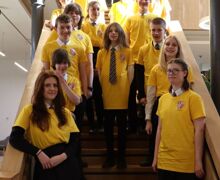 Our centre does not require an entrance examination and students will continue to follow their existing timetable alongside their peers. The LEAP programme begins in lessons with a challenging curriculum and extra stretch and challenge for students. Students who have been invited to join the extra curricular LEAP Programme then have a variety of exciting activities, projects and events to fully immerse themselves in; this is facilitated by school staff and external speakers.
Both Key Stage 3 and 4 MABLE students are offered a rolling programme of after school cross curricular experiences over the year. This strives to foster their love of learning and enables them to make important connections across all areas of their school life. Students have recently taken part in workshops that varied from Engineering to Latin; from Coding to History. The programme broadens their knowledge of key subjects and sees staff sharing with students their own expert knowledge from their A-Level or degree studies.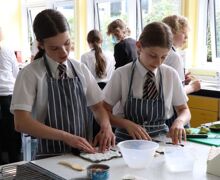 Additionally, we run the Redruth Scholars programme. Students are invited to apply and a small selection of students from each year group are chosen to take part. This group focuses on aspirations. Sessions include zoom calls with Russell group universities, planning and preparation for future choices and revision support. We strive to ensure students have the highest aims for their future and it is our duty to give them access to a full range of pathways.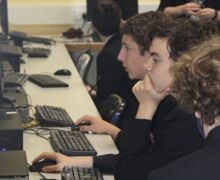 There is also a plethora of activities which are held throughout the year from external providers. These include: TeenTech webinars (STEM based learning which encourages students to create their own designs to combat global challenges); Falmouth University taster sessions; Exeter University Scholar's programme; Plymouth University taster sessions; geothermal workshops run by United Downs; talks from Redruth School alumni and professionals from companies such as Amazon and the BBC; and entry into competitions run by institutions such as Oxford University and the International Space Station. Many out of school opportunities are also frequently advertised to students - this year we have had students taking part in Saturday Schools run by different post-16 providers, students signing up for a Space Camp run by Newquay Space Port in partnership with Goonhilly, attendance at seminars facilitated by King's College London, and being given the chance to report on exciting local events such as the opening of the Space Port, St Piran's festivities, and events at Kresen Kernow.
If you require any further information please contact Mrs Anthea Wilkinson, LEAP Co-ordinator, awilkinson@redruth.cornwall.sch.uk.